Summer is basically here but it seems to come and go in Pittsburgh. I've been so chilly in between the warm rays of sunshine that manage to peak behind the clouds. The heat just needs to come already and thaw us out, I swear. But I've found four new items that I think will be very useful for the summer, items I would be consistently pulling from out of my closet.
$44.98 -
Aldo SMILE Bag
Aldo is a shoe and accessory company that is really providing an interesting perspective to the fashion industry and this handbag is the perfect example of this. The architecture is so well done that it looks expensive and I wouldn't be surprised if it gets marked up by another $100. The biggest strength I see of this bag is its versatility because I could see anyone using it to go to the supermarket or meet up with friends for lunch.
Summer is sandal season and this wedge is a beautiful addition to any shoe collection. There are a few colors on the Nine West website but I'm quite partial to the blue shown above. This is something that personally I would wear with jeans and a nice t-shirt. It's casual, flirty, and perfect for the season.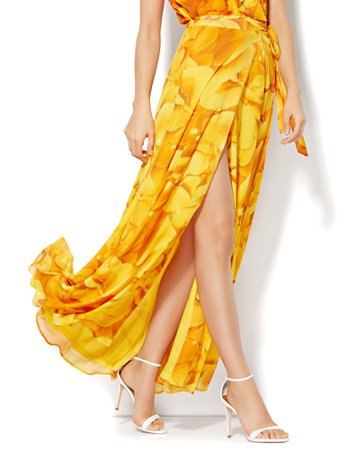 A maxi skirt is great to have as they can be worn on many different occasions. One day at work, I saw three different women sporting beautiful maxi skirts and I thought I was out of the loop somehow. I've been searching for a yellow maxi skirt ever since and I'm really happy to have found this one from New York and Company. The floral pattern is summery and bright and from the pics from other users on the website, it looks like a great buy.


So that's it for May. I've been kinda stressed out these past two weeks but I'm glad I came across the items I found. Not sure if I'll have more to say this month, but I'll keep you posted.

~Renee Brown